---
---
Working with the energy of the lunar cycle has been an intrinsic part of my design and creative process and one that allows me to constantly learn and develop as an artist and business owner.

---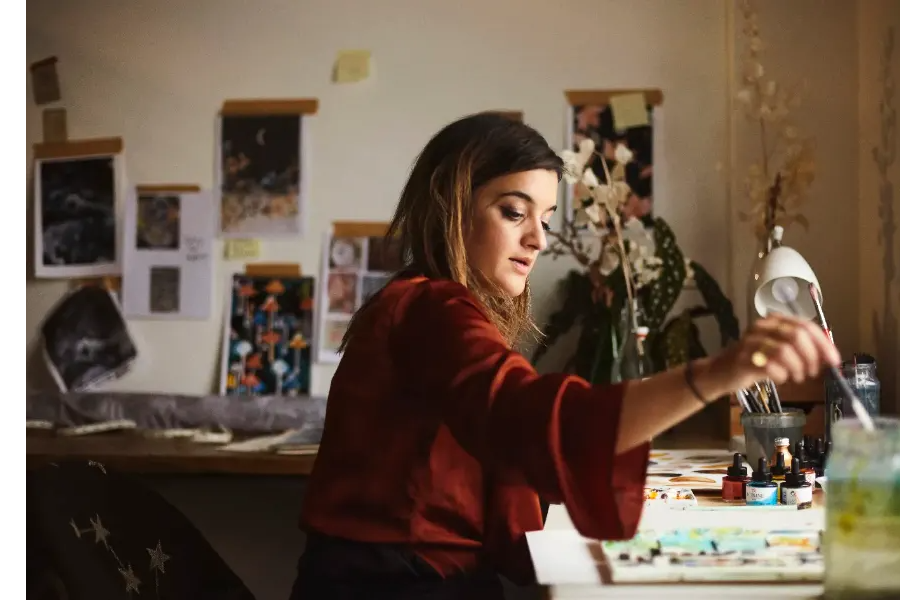 ---
The 8 main phases of the moon
Having entered 2021 with the hangover of 2020, there still is so much out of our control and lockdown 3.0 can feel never ending. I have managed to get to a place of acceptance (call it part of the grieving process) and for the first New moon of the year (in Capricorn) I set intentions that were all about helping me escape through my creativity; something that no one can take away from me or you.

For me, my work the last few years has been dominated by admin and the more strategic runnings of the business, which is often very serious work that leaves me very tired. I'm seeing this slowing down in society, as an opportunity to really enjoy the process, letting go of what the final vision will look like by embracing trial and error and getting messy in all the stages of making art! For too long we've lived in a patriarchal system that creates competitiveness to the point of exhaustion, a desire to constantly be on one's best game to succeed, even if that means sacrificing our mental and physical health til we're in a state of burnout which in the past has been worn as a badge of honour by many, including me. Let's see this new Aquarian energy that we're entering as a chance to live with purpose & connection. And that means no skipping or rushing the process to hurry a 'finished product.'

With it still being Winter (it's actually snowing as I write this); a very inward introspective season, I'm using this energy too, to help me plant those all so precious seeds that I want nurture and grow so they can flourish into the material later this year.

I wanted to share a little into my design process and show how each of the 8 phases of the lunar cycle can help you embody more play and creative flow into your life. I've recently released a new book called 'creative flow' published with Leaping Hare press, Quarto books,  which is full of ideas on how to work creatively with the lunar cycle and its 8 main stages. It's a guide that can help you connect to your intuition on the regular in a way that doesn't feel like a chore but rather something you can dip in and out of - remember there's always the next cycle ;) .
"I'm seeing this slowing down in society, as an opportunity to really enjoy the process"
Lunar cycle phase one: New moon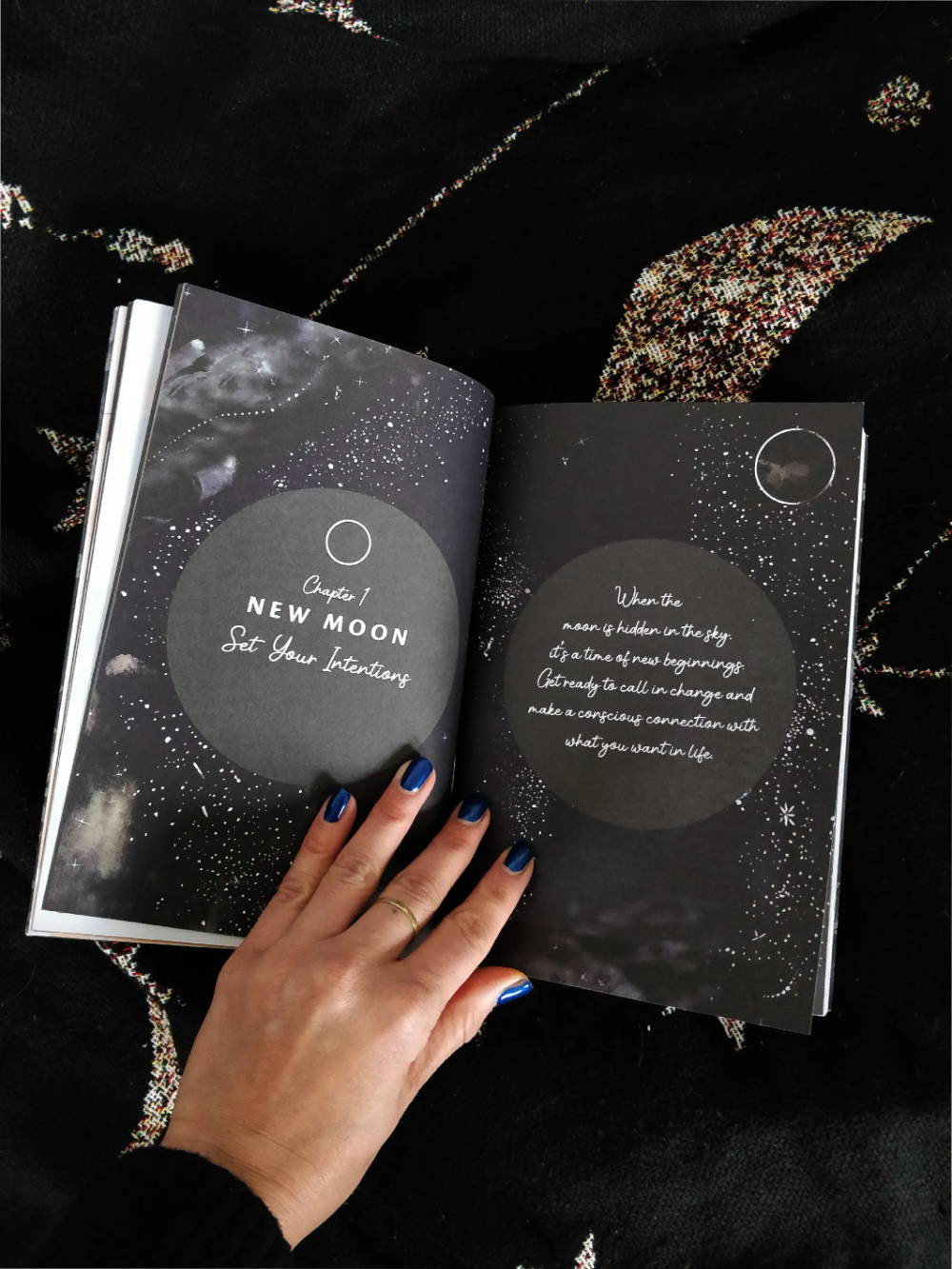 Cosmic Flow chapter 1 - New moon - Set your intentions
---
Get quiet & let the mind wander
Before beginning to write down my new moon intentions I need to really get clear on what I want to call in. I do this by meditating and allowing ideas and visions to float and swirl in my mind and into my consciousness.
I find I'm most enthralled with a playlist of music that I've collated especially for my new moon ritual. A eclectic esoteric mix that will help me get into a state of relaxation. Music by female musicians Ajeet Kaur, Yaima, FKA twigs and Bat For lashes are particular favourites of mine; women whose music connects me to the divine feminine and help me release my inner shakti essence. I breathe deeply and listen to the words of the music bathe over me, I stretch my body and focus on the breath.
I let my mind wonder and think about how it feels when I am in a state of flow. When a magic unifies my mind and body and I am completely focused; tapped into a source that sees me fully committed and present. When hours flitter by and I don't even have a craving to check my phone.
Often when I'm imagining say, 'to design a new collection' the designs aren't there yet but the feeling is. I tap into that feeling, the eagerness of wanting to grasp a paintbrush and thumb over the bristles as I mix up my paints with a crisp sheet of watercolour paper in front of me.
Below are some of the prompts I let myself explore
○ Visualising the feeling of creating a body of work that feels so authentically me.  
○ Opening myself up to the challenge of creating something different, even if I can't quite envision what that is yet.
○ Imagining myself having infinite time to be creative. I literally imagine myself experimenting through play, collage, paint,   scribble, doodle and even annotating in a notebook.*
 ○ Imagining a jolt of energy from my root chakra, all the way up the crown, a golden source of light that fills me up and makes me believe it is possible. I imagine my body radiantly lit up, full of potential and a bubbling up with anticipation.
○ Conjuring previous times when I felt creatively free. For example, when it's 2am, there's paper tossed everywhere, a paintbrush has somehow found its way in my cup of tea and I'm buzzed and so in at the moment.
*This ones a biggie as I often imagine I've got no time and I need to rush, be quick, be creative now! This is a massive inspiration killer which leaves me feeling stuck, empty and obsessing about the end result forgetting most of the fun is process.
Setting my new moon intentions

Once I've let myself meditate and let my mind get intrigued with my creative prompts, I generally find I'm bursting with ideas and ready to write down my new moon intentions or wishes.
At this point it may be as vague as 'I want to create a collection that is authentically mine, that surprises me'. I then write below the feelings I felt when I mediated with each of the prompts. The key here is to really believe it is possible, to cultivate this energy into my body, through to the words written in my journal.
Underneath my intentions I then write out a statement as if it were a reality.
'I AM so proud and excited of my new body of work. It reflects the natural beauty I discovered during lockdown'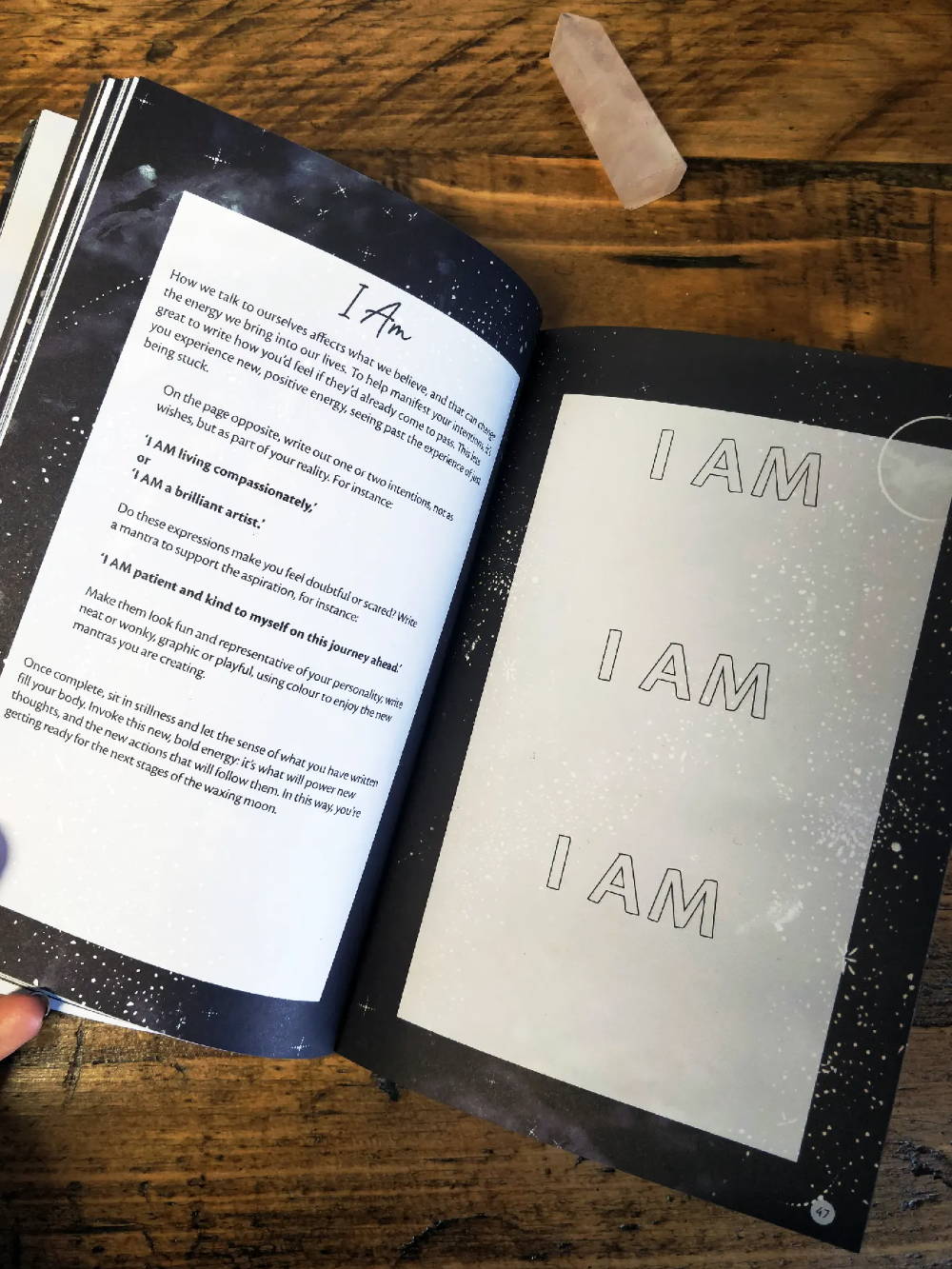 Cosmic Flow chapter 1 - New moon
  'I Am' writing in the present exercise
Within 'Cosmic Flow's first chapter there a variety of exercises (including a new moon ritual ) to help you discover different ways to work with your new moon intentions creatively. The first chapter really is all about making time to explore your desires authentically by getting still and letting your imagination get to work. And of course each page is illustrated by me to help inspire you put biro, felt tip or crayon or whatever media you choose to the page.
Keep your eyes peeled for my next post on my creative process on Phase 2: Waxing Crescent
---